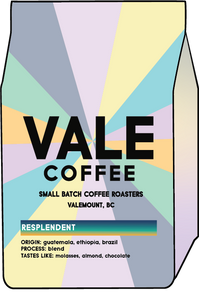 An espresso blend of 3 origins that Vale Coffee has become very familiar with over the years. This marriage between the Guatemala Carrizal, Ethiopia Yirgacheffe and the Brazil Cerrado creates an offering that is greater than the sum of its parts.

This decadent espresso blend has notes of chocolate, almond and molasses and is best prepared as an espresso or americano. 
Notes:
Chocolate, almond and molasses. 
Brew Method:
Ideal for espresso based drinks and pour over.