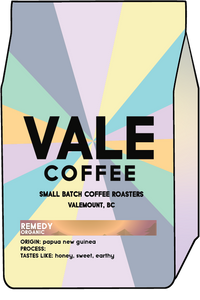 This coffee is sweet and earthy with a deadly delicious aroma. This is a well balanced, organic medium roast from Papua New Guinea that we are so excited for you to try!

Notes:

Honey, sweet, earthy.

Brew method:
Pour over, drip, french press.
The Farm:
Introducing Morobe Mountain Coffee Coop (MMCE), a distinguished cooperative based in the captivating Morobe Province of Papua New Guinea, nestled along the northern coast. MMCE takes great pride in offering exceptional organic certified coffee, cultivated with care at altitudes ranging from 1,700 to 2,000 meters above sea level (masl), delivering an exquisite blend of flavours and captivating aromas.

This cooperative is a vibrant community of more than 700 dedicated coffee growers from the lush landscapes of Papua New Guinea, all united by a shared passion for producing high-quality coffee using sustainable and organic farming practices. MMCE places a strong emphasis on empowering its farmers and supporting them at every stage of their coffee cultivation journey.

Through rigorous training and ongoing guidance, MMCE helps its growers adopt best practices in organic farming, ensuring that their coffee cherries reach peak quality without harming the environment. The cooperative is committed to preserving the natural beauty of the region and ensuring a harmonious relationship with nature.

When you savour a cup of MMCE's organic certified coffee, you become a part of a remarkable journey - one that celebrates the dedication and craftsmanship of Papua New Guinea's coffee growers and the breathtaking landscapes that nurture these exceptional beans.