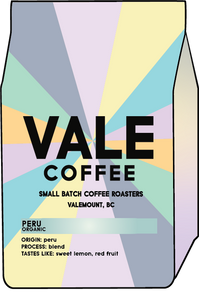 Definitely a go to for the staff at Vale Coffee. Sweet, fruity and well balanced. If you are into medium roasts, we recommend this consistent single origin, organic peruvian coffee as your daily dose.

Notes:

Sweet lemon and red fruit.
Brew method:
Pour over, drip, French press.
The Farm:
The farmers that produce coffee exported by Perunor follow a strict quality control system. From initial planting to harvesting and environmental conservation well after the crop. The farmers participate in regular training sessions to continue to improve the systems already in place that are funded by coffee sales and by organizations such as the World Bank. The shade-grown coffee by Perunor is produced in soil rich in organic matter and naturally occurring minerals. The cherry shells are used to create an organic compost to enhance the acidity of the soil. The coffee trees are shaded by native trees with heights ranging from 12-30m, which follows their environmental conservation philosophy. Furthermore farmers partake in small committees that comprise the Selva Andina Association. Through these groups, the farmers participate in community efforts to further enhance their environments. The coffee produced by the Perunor farmers meets international standards for excellence and is consistently a high standard, organic, specialty coffee.