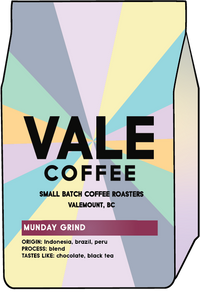 This espresso roast makes us feel like proud parents. A blend of beans from Sumatra, Peru and Brazil, and makes for a rich, sweet punch in the face. 
Notes:
Chocolate and black tea. 
Brew Method:
Ideal for an espresso machine but adapts well to all brewing methods.
The Farm:
Giling Basah (wet hulled) Translates to "wet grinding" and is considered Semi Wash and Semi Dried Process. Farmers remove the outer skin from the cherries mechanically using pulping machines called Luwak. The beans are still coated with mucilage and are then stored for up to 24 hours. Following this period the mucilage is washed off and the coffee is partially dried to 30% to 35% moisture. Immediately after hulling the coffee is still very wet, its protective layers have been stripped leaving an attractive environment of enzymes and sugars to absorb and help create the earthy, tobacco and chocolate flavours so well known to Sumatran coffee. PT Raja invests heavily in women's education & health within the community. The Co-Op takes their premiums and invests in small tools and water systems within their farmer cooperative, so water is more conveniently located for them.