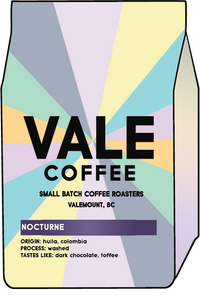 Savour the allure of Excelso EP coffee, thoughtfully sourced from Huila's esteemed region. This meticulously washed coffee is a skillful blend of Caturra, Castillo, and Colombia Hybrid varietals, expertly dark roasted to highlight enticing notes of toffee. Embrace the harmonious flavours of citrus, black tea, and apricot, capturing the distinct essence of Huila's coffee. Elevate your coffee experience with this exquisite dark roast, where luscious toffee undertones elegantly complement the nuanced fruitiness, ensuring each sip is a delight to the senses.
Notes:
Dark chocolate, toffee 
Brew Method:
Pour over, drip, french press.
The Farm:
The Central Huila Coffee Grower Cooperative (COOCENTRAL) stands as a prominent and influential cooperative in Colombia's Huila region, boasting approximately 4,000 dedicated associates hailing from seven centre municipalities: Garzon, Gigante, Agrado, El Pital, Tarqui, Suaza, and Guadalupe. 

One of COOCENTRAL's remarkable achievements is its ability to combine profitability with sustainability and social responsibility. By adopting innovative and eco-friendly practices, the cooperative ensures the long-term health and vitality of the coffee-growing ecosystems while preserving the unique biodiversity of the region. Through initiatives that prioritize social welfare, COOCENTRAL enhances the livelihoods of its members, fostering a sense of solidarity and prosperity within the coffee-growing communities.

COOCENTRAL actively engages in various local and global collaborations to promote Colombian coffee on the international stage, thus securing market access and growth opportunities for their members. As a result, COOCENTRAL not only bolsters the local economy but also contributes significantly to Colombia's reputation as a premier coffee-producing nation.